Regardless of the restrictions in your area, you might not feel comfortable going to a beauty salon to get your eyebrows professionally shaped in the current situation, given the close proximity of therapist to client, and also given the amount of protective equipment that needs to be worn by both.
None of us want to walk around looking like we've got two furry caterpillars on our faces, but none of us want to end up with that overplucked nineties look either!
To help you get it right, here's our foolproof guide to keeping your brows under control until you're comfortable to return to the salon.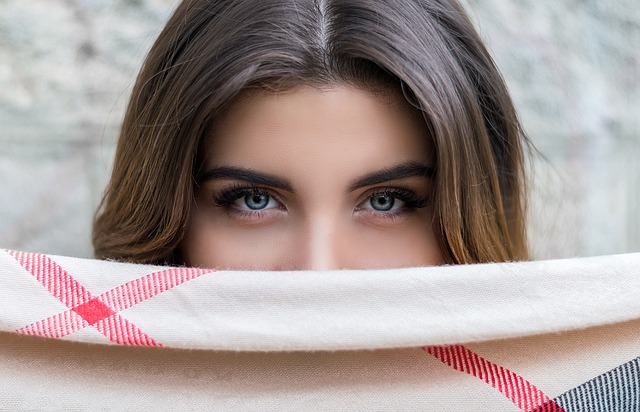 Preparation
Start by gathering your equipment – and ensuring that it is scrupulously clean! You'll need:
Good quality slanted tweezers
Brow pencil
Small pair of sharp scissors
Spoolie brush
Gentle cleanser such as micellar water, and cotton pads
A soothing gel containing aloe vera or tea tree oil
Make sure your mirror is in a well-lit space so that you can see what you're doing properly.
And don't forget to prepare yourself! Cleanliness is key – so cleanse thoroughly before you start. It's easier to pluck your brows when your pores are open – ideally after a shower as the steam will help you along. But if that's not practical, hold a (clean) warm wet washcloth over your brows for a couple of minutes after you've cleansed to relax the skin. This will avoid infection and blocked pores – spotty eyebrows are not a good look…
If you have long hair or bangs, wear a hairband to keep your hair away from your eyes.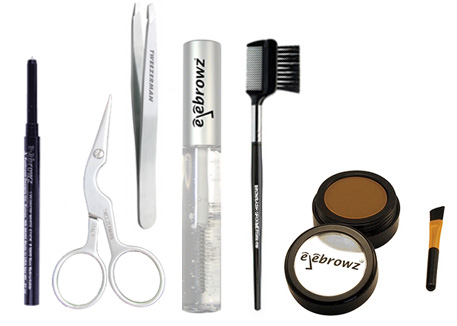 Brush and snip
Some of us get very long stray brow hairs, and it can be tempting to just pluck them out. However, this can lead to uneven, gappy brows. Instead, the best way is to trim them.
Use a clean spoolie brush to brush your brow hairs upwards. Slowly and carefully, one at a time, carefully snip the end of any hairs that extend beyond the outline of your brow. Only take a little from the end – err on the side of caution if in doubt.
Then brush the hairs downwards and repeat the same process.
Determine the shape
You can use an eyebrow pencil to determine the shape of your brow. Place the pencil along the side of your nose to find the spot where your brow should start. Then angle the pencil from the edge of your nose and over the center of your eye (your pupil) – that should be the highest point of your brow. Finish by lining the pencil up with the corner of your nose and the very edge of your eye. Where the pencil intersects with your brows is the point where the brow should stop.
Mark these points using the brow pencil, and then use these points to draw an outline shape that will be your guide when tweezing.
If that all sounds daunting, and you need a bit more of a helping hand with determining your eyebrow shape, why not try using an eyebrow stencil kit instead? They can be a lifesaver for those who are less confident with where their eyebrows should start and finish. Anastasia Beverly Hills sells a set of five reusable stencils for $20.00, available from www.anastasiabeverlyhills.com that enable you to find the right eyebrow shape for your face type.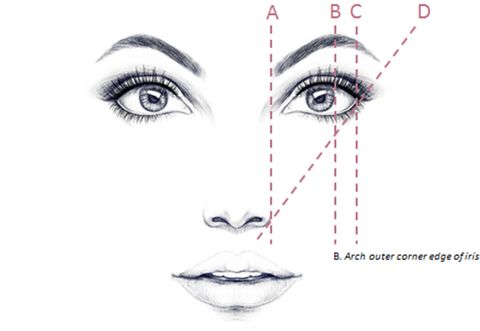 Slowly does it
You should aim to remove as few brow hairs as possible. Take it slowly, and if in doubt, don't tweeze!
Remove any hairs that fall outside the outline that you've drawn. Pluck one hair at a time and tweeze in the direction of growth. This helps avoid those unsightly ingrown hairs.
Focus on the underside of your brows – removing too much from the top can look unnatural. Only remove obvious stragglers from the top.
Aftercare
Once you've shaped your brows, cleanse the area again using a gentle cleanser such as micellar water, applied using a cotton pad. Then apply a soothing gel, containing aloe vera or tea tree oil to reduce redness.
To prevent blocked pores and infection, try not to touch the tweezed area once you've finished.
Brow products
If you go into any drugstore or online beauty website, it can seem like there's an overwhelming array of eyebrow care products available.
If your brows are full and well pigmented, you can probably skip products designed to fill or color your brows. Instead, a quick sweep of brow gel may be all that's needed to keep your brows tamed.
However, if your brows need additional color, whether it's because they lack pigmentation or because they are patchy, be careful not to go too dark. Unless your hairs are very pale-colored, aim for a shade that matches, or is a shade lighter than your natural brows. If your brows are very light, you could go a shade darker, but no more.
Eyebrow pencils can be very precise but do require a light touch – feathery strokes are the aim here. You might prefer to use a brow powder instead as it's easier to create a much softer, more natural look.
If you follow our advice, you should be able to maintain your brows in decent shape until you are able to get back into a regular routine of salon visits!
Written exclusively for our company by Sally Wood
Source: CoolMambo.com