Getting an effortlessly chic style is more than mastering a trend or a particular outfit, but knowing the rules to make it work. Some women have mastered the art of looking polished and sophisticated while keeping everything laidback. Whether you're heading to a Sunday brunch, casual Friday at work, or summer picnic, keep on reading for the 8 style rules to get an effortlessly chic statement.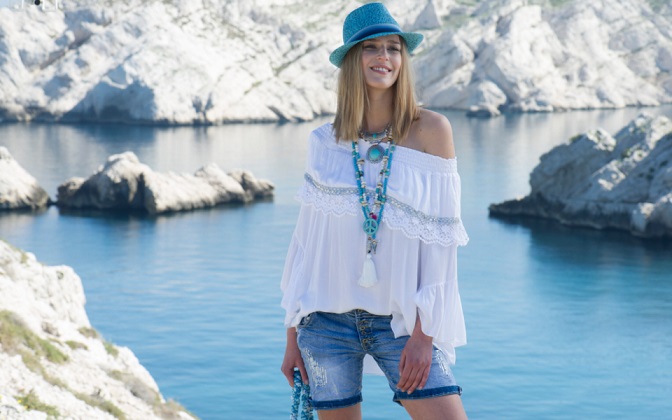 Pay attention to a flattering fit.
Regardless how expensive your clothes are, if they don't fit you perfectly then they won't look great on you. So, don't hesitate to take items to a tailor to be altered properly. Even though an effortless look implies loose and comfortable clothes, it won't look chic if your dress fits bigger or tighter on you. Remember, good quality clothes will last you for more than 10 years, and it is a small price to pay for alterations.
The quality of your clothes should speak for itself, so you shouldn't rely on brand labels and logos just to look classy. Also, make sure you don't skimp on getting quality pieces as they are the building blocks of your wardrobe. Keep in mind that every woman has their assets that they need to focus on, so make sure the purchases you make reflect your best physique.
Opt to classic fabrics and textiles.
Each season trends emerge, so you have to select pieces that will work in your wardrobe for the long term. Classic, timeless clothes will last well into the next decade. So, think of classic fabrics and cuts that can allow you to expand your wardrobe while keeping everything versatile. Denim is one example of a versatile fabric that cuts across all style lines, from street to casual Friday at the office. For an effortlessly chic outfit, you may go for a neat pair of tailored jeans teamed with a dressy blouse or a classic button-down shirt that can be great from casual weekends to casual Fridays at work.
If in doubt, wear neutrals and jewel-tone shades.
Incorporating bold patterns and prints can add some life to a dull outfit, but it usually makes everything complicated, especially if you wear statement earrings, a bold colored bag, and architectural shoes. To keep everything effortless, resort to neutral shades like white, black, beige, cream, navy, and gray that will keep your look polished. Or, add some flair with jewel tones like sapphire blue, ruby red, amethyst purple, and emerald green that can dress up your summer look without wearing accessories.
Pay attention to the details.
The trick to getting that effortlessly chic style is wearing neat, clean, and tailored clothes. Make sure you wear flattering colors, patterns, and details that can highlight your assets. Do you know that wrinkles on your outfit can even make an expensive dress cheap? Also, pay attention to the color scheme of your outfit, coordinating tops and bottoms, as well as a good mix of accessories that will pull everything together. If you're wearing a pair of chandelier earrings, skip that statement necklace to keep everything effortlessly chic.
Know your personal style and elevate it to a more sophisticated level.
If you have a good sense of personal style, take the chance to show it on your clothes. Your personal style reflects your mood, personality, goals, interests, and lifestyle. Getting that effortlessly chic look is all about mastering the key elements and combining them properly.
If you usually wear pantsuit at work, try to keep your weekend style effortlessly chic by teaming your office blazer with casual yet tailored pants. If you're a tee-and-jeans type of girl, think of trading your boyfriend jeans with a skater skirt teamed with a floral print blouse that will do the tricks for you. This way, you'll get a laidback look while staying true to your personal style.
Never overexpose.
Effortlessly chic style calls for a bit of modesty while keeping everything laidback. So, forget those revealing necklines, form-fitting dresses, miniskirts, and bandeau tops. Though you may balance you revealing top with a more conservative skirt or pants, a modest look is timeless and trend-proof. If the summer season calls for a breezy lightweight top, think of a chic tank top, but balance it with breezy trousers. Or, go for a maxi dress in an off-shoulder style that looks a bit sexy without going too revealing since it has a longer hemline.
Don't forget about comfort.
Effortlessly chic isn't just a fashion style, it's a lifestyle. The key to this style is to be comfortable, and to show you don't have to try too hard just to look your best. Don't succumb to uncomfortable clothes for fashion as it will only take the confidence away from you when you're unease in your outfit. Flat shoes can be your greatest ally after a long day at the office, and they can be great to transition for a girls' night out effortlessly. If you wish to look dressy on your weekend style, think of a fuller skirt that will be more comfortable with a casual top over a form-fitting pencil skirt.
Don't go overboard with accessories.
The key to accessorizing your outfit is to look like you didn't try too hard. Shoes can make or break your outfit so go for ones that will keep you comfortable. While stilettos and classic pumps look sophisticated, they don't sound effortless as the discomfort you feel on your feet can ruin your overall look. A chic pair of ballet flats or ankle boots can be great to keep your style statement effortless.
Also, you may think of a timepiece or simple jewelry that will add a classy vibe to your look. When you wear a watch, it implies time is important to you and you've got places to go. While it's tempting to wear your favorite bracelets all at once, keep in mind the less is more philosophy. You may also opt for high-quality costume jewelry, but keep it small and tasteful as sparkling jewels tend to look over-the-top.
Effortlessly chic women find beauty in their imperfections. By heeding these style rules, you'll know how to make your outfits fashion-forward, and have that style factor to turn heads.
Source: www.emilydeals.com/